So I'm still exploring different rainbow treats lol. I think what intrigues me most is the combination of so many bright colors. Today I have a few of my favorite rainbow treats I'd like to share from some blogs that I follow. Enjoy!
1. The first on my list is from one of my favorite bloggers
SugarBelle
. She makes the most amazing cookies ever. These are her rainbow cookie favors. I love how she bordered the edges of the cloud. The scripting for the name is so precise too! Can you see the little heart used on the i's? :)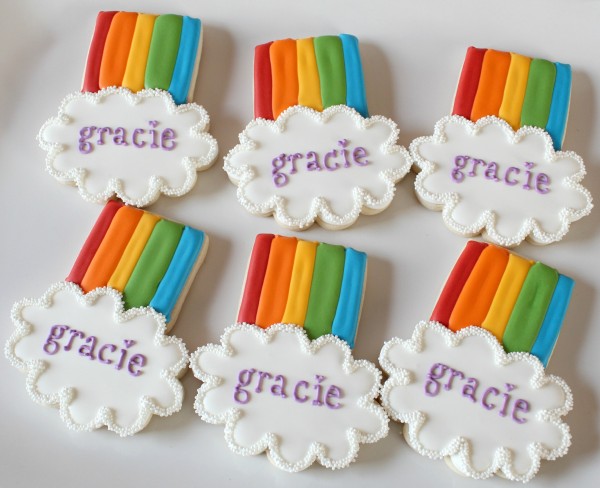 SugarBelle's Rainbow cookies
2. Number two on my list is from Darla from
Bakingdom
. I think this cake is just awesome how she made a heart inside the cake! This one was so neat. :)
3. Third is Caroline from
Chocolate and Carrots
. She made a mini rainbow cake...not so mini once all the layers are stacked but still beautifully delicious all the same. :) You can check out more pics of this cake on her guest post on
Bakingdom
.
4. Number four is Manda from
IamBaker
. She made some really neat homemade rainbow sprinkles and decorated her cake that way.
You can also check out some cool rainbow recipes at Tablespoon.com